UKRAINE
Ukraine is the largest, but one of the least-known countries entirely within Europe. With great natural beauty, a rich culture and warm and hospitable people, it's a wonderful country to visit.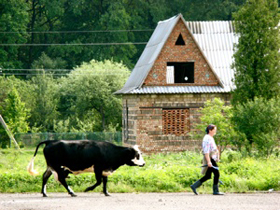 Many visitors to this newly independent, developing country come for business, educational and medical exchanges, and charitable works. But many people of all ages - from children to grandchildren - are going to Eastern Europe to find their roots. Instead of a backward country, they are surprised to find a country with vacation opportunities from the sandy beaches of the Crimea, to the verdant Carpathian Mountains, to the museums of the past, to the shopping centres in Kyiv.
Discover a culture that is deeper and more beautiful than anything you'd expect. You'll meet people with a different perspective, and a hope for the future that is inspiring. Contact Myrna or Lyuba for more details.