HAWAII
Hawaii
Enjoy the picture-perfect land of swaying palm trees, year-round sunshine and tropical seashore in any of the beautiful Hawaiian Islands. Solaway Travel can help you experience this beauty with vacation packages with flexible durations, and as many Islands as you'd like. Whether you are after a 7 or 14 day package to Waikiki, you want to split your trip into a couple of islands, or you'd rather rent a car and escape for a while, we can put together the package that is just right for you. For more information on each Island, see below:
---
Kaua'i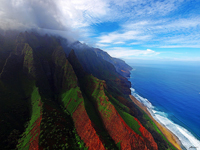 Solaway Travel knows just where to go for peaceful escape from everyday life. Quiet, serene, and un-crowded, the "Garden Isle" is a true and natural paradise. This island is the place to go if you want to rejuvenate and take in the natural beauty. Visit places like Waimea Canyon, nicknamed the Grand Canyon of the Pacific, or the beautiful Wailua Falls.
---
O'ahu
Home to the popular areas of Honolulu, Waikiki Beach, Diamond Head and Pearl Harbour, O'ahu is the most asked for destination in the Hawaiian Islands. If you are looking for nightlife, shopping and glamourus beaches, look no further. The most cosmopolitan of the islands, O'ahu is a sure thing for excitement. Contact us for more information.
---
Maui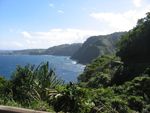 Home to some of the Pacific's best beach resorts, Maui has so much to see. The Valley Isle offers extensive sightseeing, beautiful drives and golf to die for. Pair that with near-perfect weather and you have a great vacation. Contact us and we can set you up with a rental car to drive to the historic whaling villages, or experience one of the luxury white sand resorts.
---
The Big Island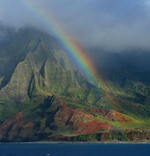 Hawaii Island is a landscape under construction. Thanks to Kilauea, the still active volcano, the big island is still growing as molten lava flows upward from the earth's core and bubbles into the ocean 4000 feet below. There is no place on earth quite like it. Solaway Travel will help you experience this amazing place with excursions and adventures to meet your every need.